Find Great Content With HootSuite's Content Suggestion & Publishing Tool
Taking The Headaches Out Of Finding Good Content!
Sharing high-quality content with followers is key to social success. Whether you call this content curation, reporting, or just the sharing of cool stuff, it plays a vital role in providing value to your fans, followers, and friends. 
Unfortunately, finding good content is often a time-consuming and challenging task. (And frankly a regular source of writer's block!)
With so many businesses facing this challenge, HootSuite has created a powerful new feature, called Hootsuite Suggestions, to help you save time on content discovery and social media publishing.
Following in the footsteps of many other content aggregation and curation tools, HootSuite aims to make it easier for you to find great stuff on topics that interest your readers. 
This new content suggestion feature analyzes your posting history on Twitter and recommends articles that are relevant and interesting to you, your followers and friends. It then places them into the prime spots within your content calendar for easy editing and publishing.
"The speed is amazing. It takes only a few seconds to serve up content that would have taken me an hour or more to source."
Susan Wright-Boucher, Social Media Consultant
What is HootSuite Suggestions? 
Suggestions auto-generates messages to review and share. By analyzing posting history and popular topics, it suggests a week's worth of messages containing relevant content that are ready to AutoSchedule.
AutoSchedule selects publish times based on optimal high engagement time periods, already scheduled content, and customized settings.
HootSuite Suggestions was originally only released to HootSuite Pro & Enterprise users but is now available to all HootSuite users including free members. 
Initially launched only for the desktop, HootSuite Suggestions is now ALSO available as a stand-alone iOS App. There is  no ETA on if/when an Android app will arrive (Boo!!). 
Here's How it Works:
A look at the suggested content feature within your desktop dashboard.
1) In the Hootsuite Publisher tab (paper airplane in your left-hand margin), click on "Suggested Content."
2) Hootsuite will scan your previous Tweets and Twitter profile, and suggest three content categories based on what it finds, which you can approve or change.
3) Once you've determined your categories, Hootsuite will analyze your topics and posting history. When it finds relevant content, it will then create a scheduled list of social messages pointing to it. These messages will appear in optimal time slots within your content calendar. (You can edit these topics easily by typing new ones in and then saving.)
4) Review the Tweets. Look at article previews to make sure the content is up to par, and then edit any of the messages to meet your desired tone of voice and structure.
As you tweak, edit and refine your content, Hootsuite learns what you like and provides even more precise content for you. Articles can also be replaced with a different post by clicking the "replace" button at the top of the screen.
5) Then—one-by-one or in bulk—delete or schedule the messages of your choice.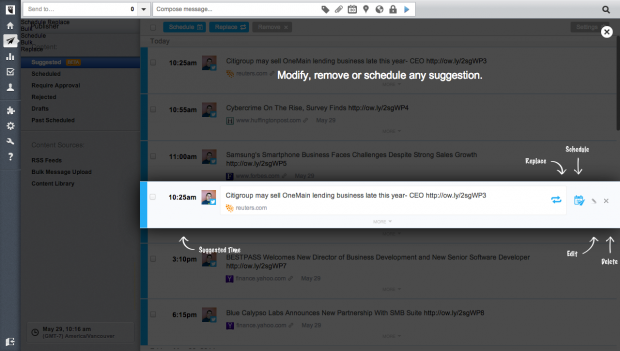 Edit, tweak or otherwise change any messaging suggested by this new feature.
You can find the official FAQ for HootSuite Suggestions here. 
"We use Suggestions to improve the heartbeat of our clients' social media profiles, and they are thrilled with the content they're seeing. Not only are the suggested articles relevant to their industries, but they are also interesting and timely. We like Suggestions so much; we also use it for our own brand."
Jonathan Goodman, president of the Internet marketing agency, Halyard Consulting.
Your Alternatives
This move toward easing the workload of content curation follows a similar model to that used by Klout and BufferApp. 
BufferApp, however, has recently announced that they will be discontinuing their content finding option (also called Suggestions). So perhaps, we will see HootSuite add some of the valuable bits that BufferApp will no longer be adding to the market. 
Buffer writes more about retiring their Suggestions tool – and provides quite a few alternatives – in this blog post. 
What I'd Like To See Improved
Some of these suggestions are more appropriate for the paid Pro level of the feature than for the free level, but I think you'll agree why they would enrich the tool. 
 1.  The system should allow us to prevent a site (root domain) from being suggested.  Just because a site is in our niche, doesn't mean they are trustworthy. 
2. The system should let us ADD RSS URLs as content suggestions that we already trust. This would be different than the current RSS tool that auto-sends ALL posts to the social channel. This is a vetting mechanism for feeds we don't own or don't want everything from. 
3. I'd prefer to see the suggested posts thumbnail image. Improve the layout. Take some notes from BufferApp on this one. 
4. Let me micro-manage the auto-schedule to set my preferred optimized times. This is made ideal through tools like Tweriod, Social Bro, BufferApp, and more. 
5. The tool needs to be modified to support Facebook's new content publishing rules for their API and I suspect that Facebook will make them upgrade this soon. (Facebook has already made BufferApp, Dlvr.it, and many others update.)
6. There are changes I'd like to see to the RSS tool, which go hand in hand with this tool, but I'll save those comments for another post. :)
7. And, of course, where is my Android app?!?!
How It Saves You Time
Managing social media can be a time intensive project and tools like this help buy some time freedom!
A business owner can now sign into Hootsuite whenever they have time, get suggested content about topics of interest to their audience, and schedule posts for the entire week. Then, they can dedicate their free time to engaging prospects and clients that they've earned by sharing relevant content.
This new feature is also smart—the more you use it, the more it learns about what content you like to share. Plus, it optimizes your scheduling so that you can maximize engagement with your followers.
A full list of suggested content ready to be published
This new time-saving tool isn't a replacement for engagement; businesses that have the resources can easily find and share great content from wherever they are on the web with a tool like the Hootlet. This feature is simply a way to speed up one of the most time-consuming parts of your social media strategy when you need to. It also can help find content of which you might otherwise not be aware. 
Now you can spend more time replying to followers and attracting new ones rather than surfing the web looking for the next article to share!
~ Kim ~
Smart Tech For Smart Marketers
P.S.: Ready to take your marketing to the next level? Sign up for a free 30-day trial of Hootsuite Pro!